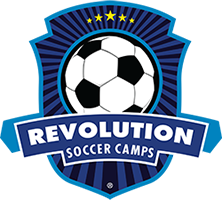 Dream Big, We'll Help You Get There!
Our Revolution Soccer Camps combine outstanding soccer instruction with off-field camp activities designed to help each camper become the best player they can be.
WHY CHOOSE REVOLUTION?
Revolution Soccer Camps provide a camp environment which is appropriate for any age and ability level. We design our curriculum in order to give campers the opportunity to play the sport they love, improve their skill set and engage with their peers and coaches. Our staff is comprised of coaches and players from top programs throughout the country who are passionate and committed to their craft. The goal of our camps is to help campers enhance the technical skills and tactical knowledge needed to succeed while competing in a fun, energetic environment.
Age and Ability Groupings
Revolution Soccer Camps are instructional based camps for boys and girls between the ages of 6-16. Our camp offerings include overnight, extended day, and day camps, as well as college ID camps. Revolution Soccer Camps places an emphasis on both athletic advancement and personal development. Teamwork will be a focal point and individual skill groups will help maximize improvement.  Our staff will separate campers based off of age and ability level in order to ensure each camper gets the most out of their experience.
WHAT YOU'LL EXPERIENCE AT CAMP
At Revolution Soccer Camps, you'll receive individualized soccer training through a superior curriculum regardless your age or ability level. We want our athletes to improve in every aspect of their game; our camps put a focus on individual skill development while incorporating drills and scrimmages which emphasize teamwork.
Campers will experience 4 phases of camp to properly develop their technical and tactical skill sets throughout each day of camp:
Phase 1: Footwork & Ball Control
Phase 2: Technical Skill Training
Phase 3: Tactical Training
Phase 4: Game- Based Learning
Our camps are designed to foster the development of each players skill set while further developing their love for the game. Our staff which is primarily comprised of Accomplished NCAA Coaches, highly touted High School and Club coaches and collegiate standouts who have dedicated their lives to the sport. Athletes today spend a bulk of their time with their travel programs and individualized training so we strive to provide the well need camp experience to help fill the void in each athletes summer schedule. We look forward to the opportunity to meet and work with you this summer.
See you on the field this summer!
Revolution Soccer Camps
CHECK OUT OUR PARTNER CAMPS